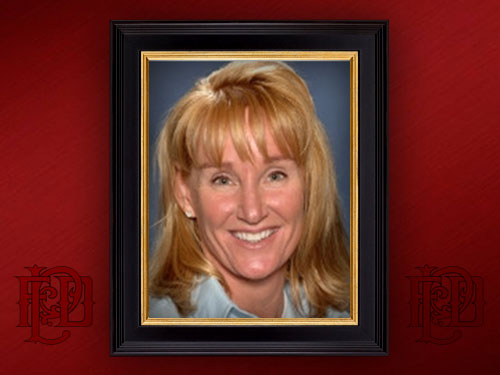 Crystal D. 'Bullet' (Arnold) Rezzonico
Fire Captain, Helmet # 1354
Phoenix Fire/ Local 493, Engine 910, C-shift
Incident date: August 10th 2009
Where: 2700 W. Dunlap, Inc# 09-215783
Died-Last Alarm: Wednesday February 18th 2017
Age: 56 years old
Served for: 24 years
Cause: Delayed death, Motor Vehicle Accident (LODD II)
Fire Captain Crystal Rezzonico and her crew on Engine 910 were responding to a structure fire, and had just cleared an intersection when they were struck by a vehicle coming off the freeway ramp. The vehicle struck the fire truck on the 'Captain's side', or, the front passengers side with enough force to fail her door, her restraint device, and eject her face first.
Crystal suffered multi-systems trauma and critical head injuries. She regained consciousness, and aggressively pursued her own recovery, even able to return to a duty on an engine company for a while. She medically retired in December 2014, and she died of her injuries in 2017.
Crystal was born June 20th 1960 in Phoenix, and is buried at the Greenwood Cemetery, Firefighters area, by the northwest corner of the Fire Fighter's Bell Tower. Her grave is marked with a red cross during the annual Fallen Fire Fighter Memorials each January.
Crystal is survived by her parents and sons, one of whom is a Phoenix Fire Fighter.
Interment:
Greenwood Cemetery, 2300 W. Van Buren, Phoenix 85009.
Forest Lawn, Block 160, Lot 4, Space 6.
(off of the NW corner of the Firefighter's Bell Tower)