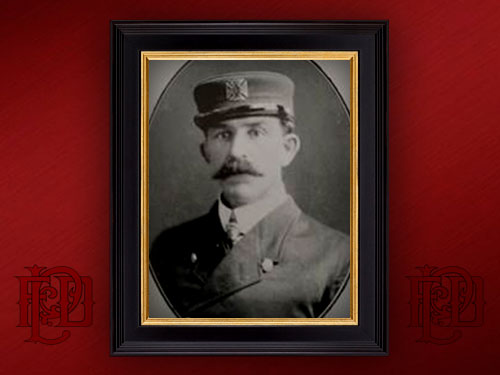 Guy C. Kilgore
Fire Engineer
Phoenix Fire, Pioneer Hose Company 1 (Horse Drawn)
Last Alarm: Wed 23 August 1911 at FS01, 101 E. Jefferson. Inc # 11-0823
Died: Wed 23 August 1911, Sisters of Mercy-St Joseph's Hospital
Age: 37 years old
Served for: 7 years
Cause: Gunshot (LODD I pending)
Fire Engineer Guy Kilgore was shot and killed inside Fire Station 1, then known as 'Central Station', by a local resident who said that he believed that Kilgore had wronged him. Fellow firefighter A.B. Delgado heard the shots, ran inside, disarmed the assailant, and walked him to the jail across the street. Guy died of his injuries at the hospital.
The assailant was tried, convicted and sentenced to prison for premeditated murder. His had an 'extensive history of violence, and having 'shot a man in California" for a similar accusation. The trial and investigations showed Guy was an innocent victim.
Fire Engineer Guy Kilgore had served the Phoenix Fire Department for approximately 7 years, and drove the horse drawn fire Hose Cart, with horses 'Dewey' and 'Schley'.
Guy was born April 11th 1873 in Illinois, and he is buried at the Phoenix Firefighters cemetery at Greenwood Memorial Park, near the Bell Tower. The Bell Tower was built the year before, in 1910, and was tolled for the very first time for a fire fighter, Guy Kilgore, at his funeral. His grave is marked with a red cross during the annual Fallen Fire Fighter Memorials each January. He was survived by his wife, 2 children and his half-brother, PFD Fire Fighter Thomas V. Kilgore.
Interment:
Greenwood Memorial Park
2300 W. Van Buren, Phoenix 85009
Forest Lawn, Block 160, Lot 2, Space 8
(NW of the Firefighters' Bell Tower, 3 west-7 north, by the tree.)