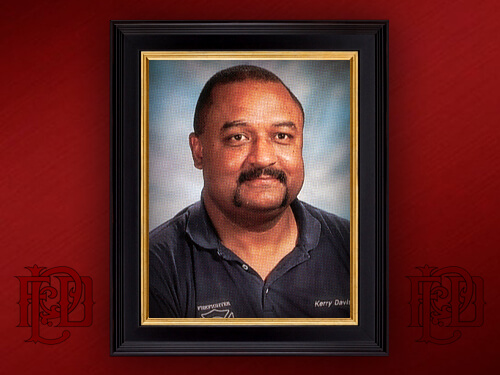 Kerry Davis
Fire Fighter - Hazardous Materials Technician, Helmet #1056
Phoenix Fire HazMat 4. Class: 85-2
Incident date: Cumulative
Last Alarm: Wednesday, July 14, 2021
Age: 64 years old
Served for: 26 years (1985-2011)
Cause: Occupational Cancer, type: Bladder (LODD IIc)
Fire Fighter Kerry Davis of HazMat 4 of Fire Station 4 contracted occupational bladder cancer from multiple exposures that penetrated personal protective equipment and clothing. He was in treatment and hospice and succumbed to cancer in the early morning of July 14, 2021 at a Mesa care center.
Kerry was born October 3, 1956, and served Phoenix Fire from 1985 until 2011. Prior to his Phoenix Fire service, he was one of the first black police officers for the City of Glendale Police Department. Kerry was divorced and is survived by two sisters.
Interment:
Greenwood Memory Lawn, 2300 W. Van Buren, Phoenix 85009.
Forest Lawn, Firefighter's Blocks, Bell Tower, East-facing Niche, #104.