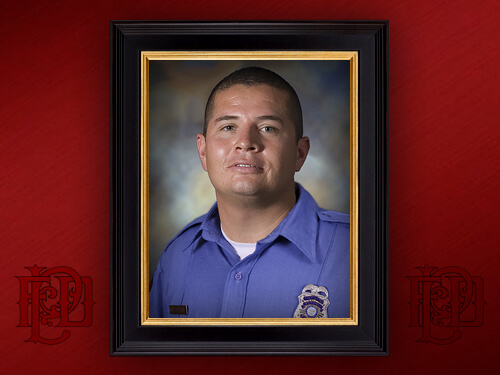 Miguel H. Angulo
Phoenix Fire E925-C Shift
Incident date: Thursday, July 22, 2021, C shift, 1331 hrs, EMS call
Last Alarm: Monday, September 6, 2021, A shift, active duty
Age: 42 years old
Served for: 15 years (2006-2021)
Cause: Occupational COVID-19 pandemic virus (LODD IIc)
Fire Fighter-Paramedic Miguel 'Chupa' Herrera Angulo contracted occupational COVID-19 flu from an infected patient on a medical call. He became ill and was admitted to the hospital on August 1, 2021, intubated August 5, 2021. Miguel turned 42 years old on August 25 while still in the hospital, and died on September 6, 2021.
Miguel is the first Phoenix Fire Fighter to die of occupational COVID-19. He was born on August 25, 1979 in Arizona and worked first for the El Mirage (Arizona) Fire Department, as well as AirEvac as a Flight Paramedic. He joined the Phoenix Fire Department in 2006, serving for 15 years until his death.
Miguel is survived by his six children, and his partner, the love of his life.
Interment:
Greenwood Memory Lawn, 2300 W. Van Buren, Phoenix 85009.
Forest Lawn, Firefighter's Blocks, Block 173, Lot 1, Space 7.