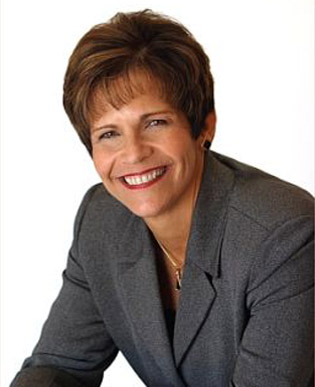 Sharon served as Executive Director of the 100 Club of Arizona since 2001, and recently retired. Her first experience with the 100 Club came several years before.
In 1998, Sharon's husband, DPS Motor Officer Doug Knutson, was tragically killed in the line of duty.  Shortly afterward, she received a check from this amazing organization. The 100 Club's mission is to support the families of public safety in times of tragedy through its motto of "Standing Behind the Men and Women Who Stand Behind the Badge."
Having been a benefit recipient, Sharon truly understood the value of both financial and emotional support in times of traumatic loss and personal crisis.  She has been a passionate advocate of public safety families.
As Executive Director of the 100 Club she was instrumental for the explosive growth and expanded outreach the 100 Club provides to officers, firefighters and other public safety employees throughout Arizona.
Sharon's personal tragedy, experience in dealing with public safety and her commitment to supporting its men and women made her the ideal leader for this public safety non-profit organization. Since being selected as the Executive Director in 2001, Sharon has led the organization to create and launch six new benefits and programs, including the non-line of duty death benefit, injury benefit, safety enhancement stipend (SES) and college scholarship programs.  SES provides equipment to public safety agencies in an effort to prevent or minimize injury to frontline personnel. The scholarship program, supported by former Phoenix Police officer Jason Schecterle, has granted over $1 million to young men and women of public safety families.
Yearly benefits have increased from $100,000 in 2001 to over $900,000 in recent years.  In 2010, the 100 Club reached the $5 million mark in benefits since its inception – a true testament to Sharon's focus on "people" and her visionary programs.  Membership has more than doubled and corporate sponsorships have increased phenomenally, including securing the largest corporate sponsorships in the history of the 100 Club. Today, the 100 Club has provided more than $14 million in support for public safety families statewide.  Sharon herself set the pace for giving through her generosity, donating over $500,000 in cash and gifts to the 100 Club over her tenure.
During her 14 years of service, Sharon has represented the 100 Club of Arizona during some of the state's most tragic moments in the lives of public safety's families.  The most prominent and most historic event was the loss of 19 Granite Mountain Hotshot firefighters (GMHS) during the infamous Yarnell Fire.  Sharon met with the GMHS families dozens of times to hear their stories, console them in their grief and address their emotional and financial needs through the benevolence of the public nationwide.  During the two year period following this tragic day, Sharon facilitated the distribution of over $5 million in assistance. This was unprecedented in the history of the 100 Club and the state of Arizona.  Even today, Sharon continues to support the needs of these families and others affected by the loss of their heroes.
Sharon received the prestigious Athena Award from the Greater Phoenix Chamber of Commerce in 2010 and was recognized as one of the top 25 "Dynamic Women in Business" and one of the "Top 10 Leaders Who Move the Valley." She also received nationwide recognition through the 2002 Police Officers Providing Peer Assistance (POPPA) Award for her work at Ground Zero after the September 2001 World Trade Center attacks. She has been recognized by many associations and departments such as the US Border Patrol, Arizona Department of Public Safety, the U.S. Attorney's Office and Federal Bureau of Investigation for her work in support of public safety.  For the past twelve years, Sharon has been a member of the Arizona Critical Incident Stress Management (CISM) Team; a group that provides emotional support for public safety officers and their families so that they may continue to serve their community.
For those that know Sharon personally, they recognize that her strong faith is the driving force behind her passionate support for public safety.  Her commitment to God's commandment to "serve God and serve people" has made her time with the 100 Club more than just her job – it has been her ministry.
Sharon is the author of the successful book, Gifts My Father Gave Me: Finding Joy after Tragedy, which is part memoir and part grief advisor. Sharon speaks around the country to women's groups, non-profits, faith-based and public safety organizations. She is the wife of retired DPS Deputy Director David Felix, the loving mother of two children, and grandmother of six grandchildren.